Improving the lives of people with sickle cell disease in Ghana
Every year, approximately 15,000 babies in Ghana are born with sickle cell disease. Early diagnosis through newborn screening and available treatment could significantly reduce preventable deaths.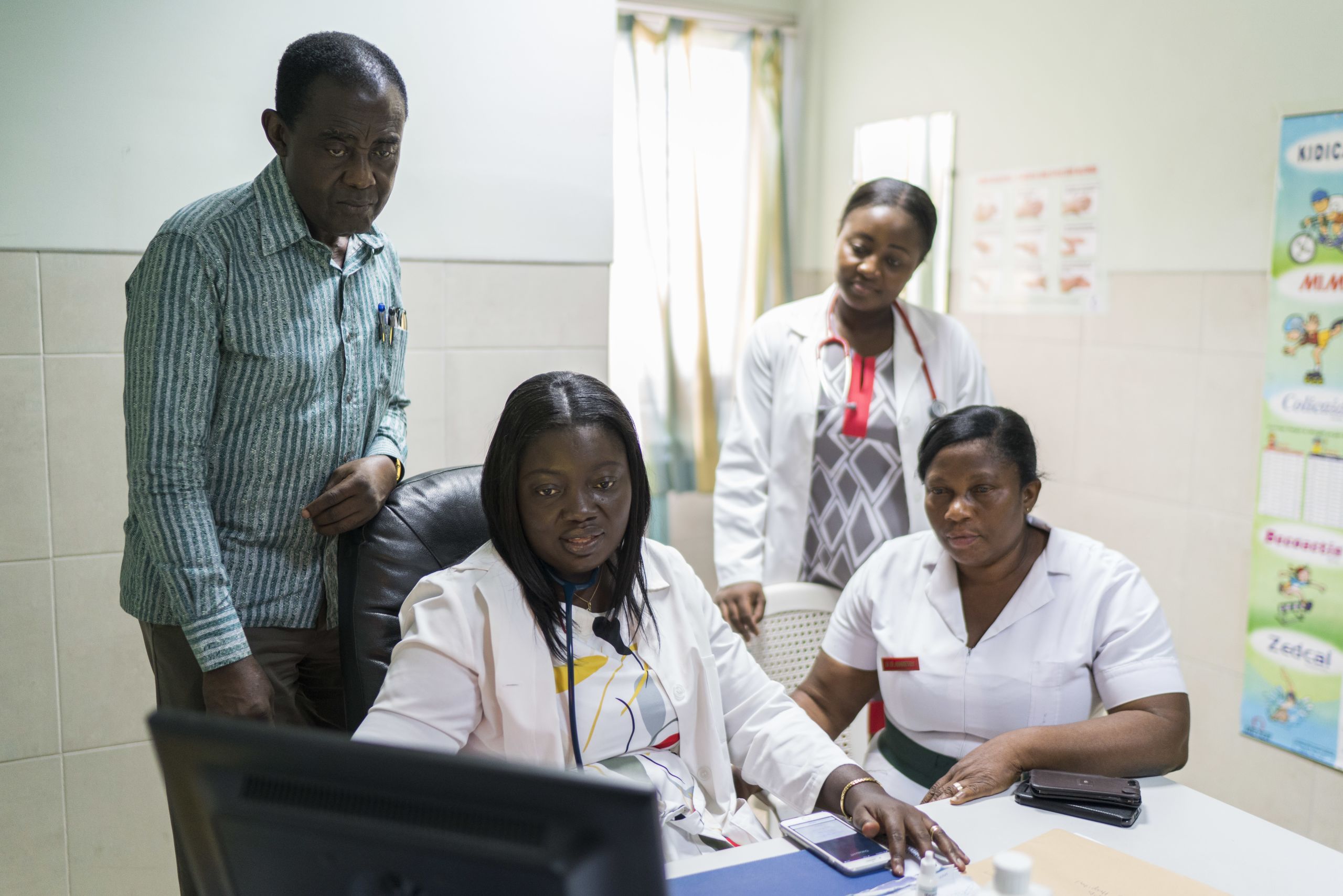 At the 37 Military Hospital in Accra, Ghana, a medical team reviews the records of a patient with sickle cell disease, or SCD. The hospital's Pediatric Sickle Cell Clinic currently provides care to about 1,000 children. For those living with SCD, recurring pain episodes — caused by the clogging of blood vessels by misshapen red blood cells — require frequent hospital visits and treatment.
Among the team is the President of the Sickle Cell Foundation of Ghana and Program Coordinator for the National Newborn Screening Program for Sickle Cell Disease Professor Kwaku Ohene-Frempong. Known to his peers as "Kof," he has dedicated his medical career to improving the lives of people with SCD. In many countries across Africa, a lot of children with SCD die undiagnosed and never treated for the disease, which is why it is so important to diagnose the disease before symptoms begin, Ohene-Frempong said.
The foundation is one stakeholder behind a new partnership aimed at preventing SCD child deaths in Ghana through the expansion of universal newborn screening and improved treatment. Ohene-Frempong hopes the partnership will "bring awareness to sickle cell disease, especially in Africa where it's most prevalent and where governments have ignored the disease for a long time, while many people see that it is worth fighting for."
What is SCD?
SCD is a group of disorders that affects hemoglobin, the molecule in red blood cells that delivers oxygen to cells throughout the body. It's the most common inherited genetic disorder in sub-Saharan Africa and was recognized by the World Health Organization as a global public health concern in 2006.
Every year, between 300,000 and 400,000 children are born with SCD; 75 percent of them in sub-Saharan Africa. WHO estimates that 70 percent of SCD deaths in the region are preventable with simple, cost-effective interventions such as early detection through newborn screening and the subsequent provision of comprehensive care.
SCD is produced by one single mutation in a variant hemoglobin gene, which distorts the normal shape of red blood cells, making blood cells stickier than usual. Clusters of sticky blood cells can block the flow of blood and oxygen, causing damage to blood vessels and organs. Symptoms include frequent episodes of pain, acute lung injury, stroke, and overwhelming infection.
According to data from the Centers for Disease Control and Prevention, individuals who carry the trait for SCD — with one sickle cell gene and one normal version of the β-hemoglobin gene — have certain protective advantages against malaria. As a result, the prevalence of the disease is high in malaria-endemic areas.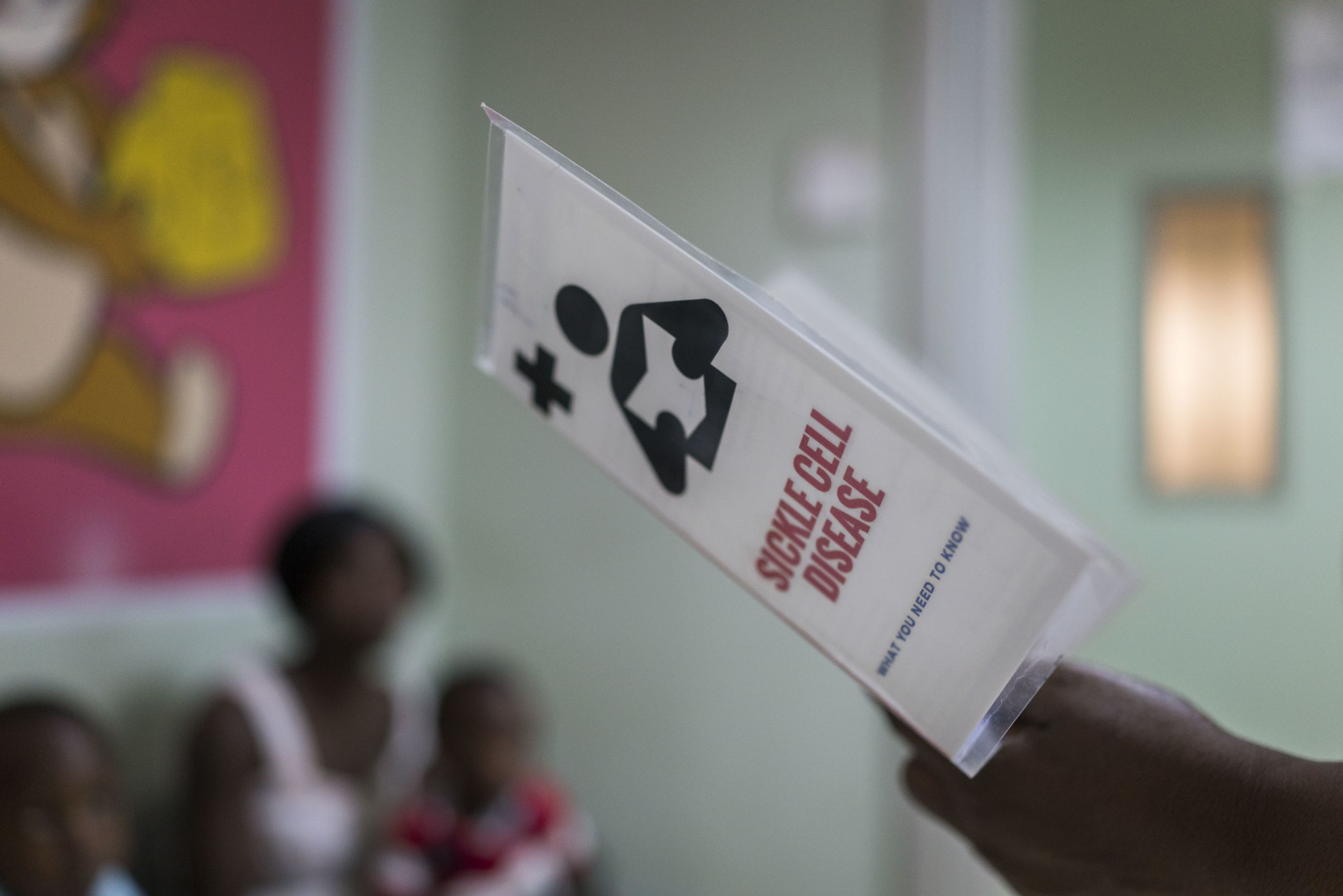 Children and SCD
Dr. Frederick Danso is a pediatric resident at the Korle Bu Teaching Hospital in Accra. He's seeing a young girl with SCD for a routine checkup; just one of the many children with SCD coming to see him at the clinic for treatment.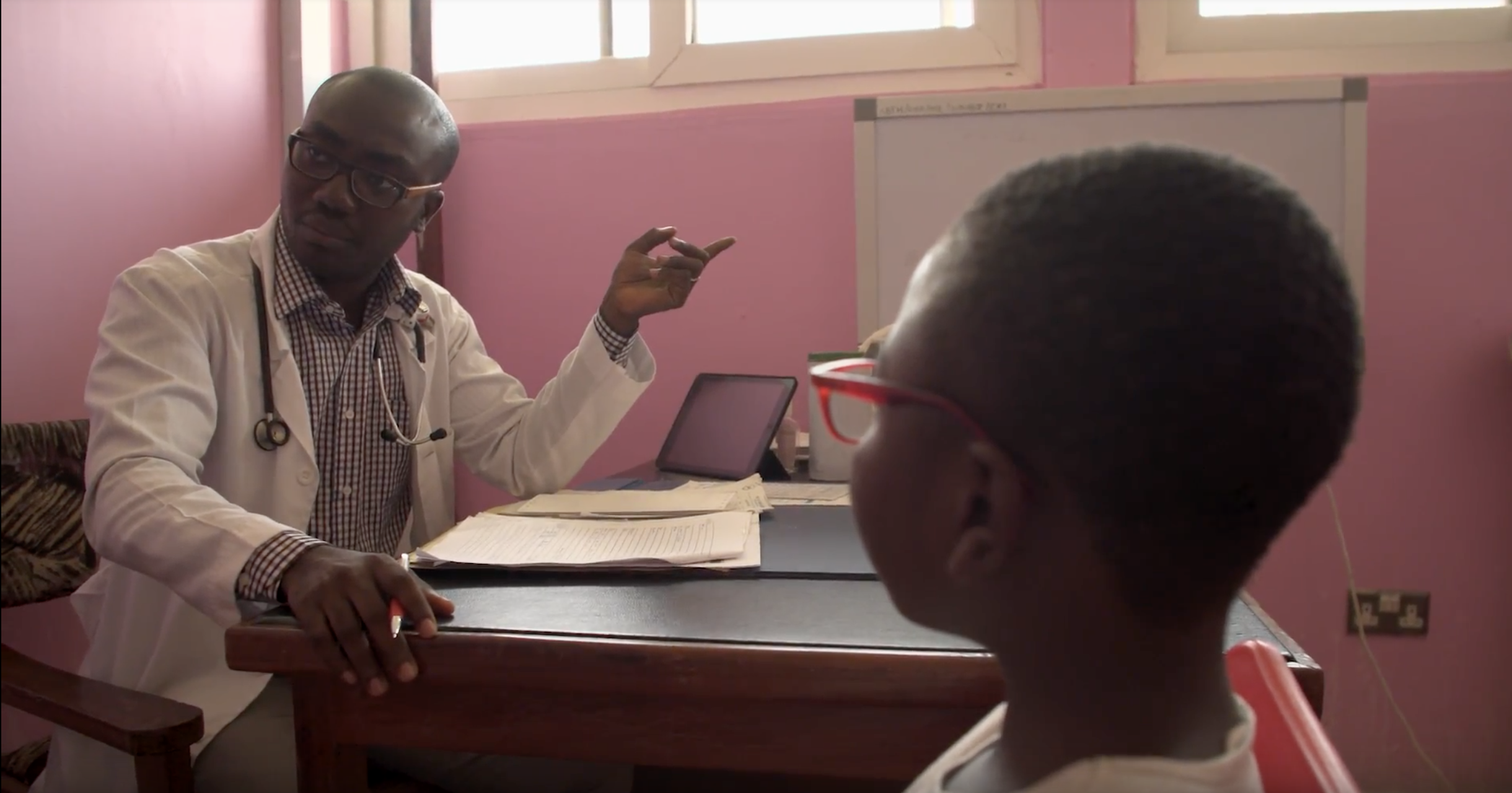 At first glance, 11-year-old Adjoa Adofoa Owusu is a lively and outgoing girl with smiling eyes — rimmed with a pair of bright red glasses. She happily shares high fives with Danso, who praises her for taking her medication.
Adofoa Owusu belongs to the 2 percent of Ghanaian babies born with SCD. She was diagnosed with the disease when she was 9 months old and has already become too familiar with the frequent pain episodes, or vaso-occlusive crises, that characterize the hereditary disease. She takes medication seven days per week, but as most SCD patients, she still experiences frequent pain.
"When you get [a] crisis, it's painful and you can't do anything about it," she explained.
The importance of newborn screening and early treatment
According to Ohene-Frempong, children born with SCD are deceptively healthy at birth as they don't experience any symptoms during the first few months. But as they grow, their blood begins to contain more and more sickled cells.

"Even at that young age when they look healthy, they can get bacterial infections ... which they are very susceptible to and which can overwhelm them in a matter of hours, or just a few days," he added.
If children are diagnosed at birth, many deaths can be prevented. According to WHO, 50-90 percent of children with SCD will die before the age of 5 if they don't receive treatment. Early diagnosis is therefore essential for instituting appropriate care and preventive therapy.
The majority of babies born with the disease start to experience the first symptoms — such as the swelling of their hands and feet — when they're about 5 to 6 months old.
According to a 2018 study, SCD is most prevalent in low-income countries where newborn screening is rare and diagnosis at the point-of-care is challenging. Ghana is one of the few countries in sub-Saharan Africa that has a newborn screening program, but according to Ohene-Frempong, there's not a single country that tests all their children for SCD. In Ghana, "screening is currently established at 40 sites, but reaches only about 4 percent of babies," he said.
Apart from frequent illness and painful episodes, SCD often leads to stunted growth. As a result, many children struggle to do well in school and experience high levels of absenteeism, along with social stigma.
"As the children recognize there's something different about them, they begin to face stigma and they begin to face rejection because [other] children are afraid to play with them," Ohene-Frempong said.
Research from 2013 using the modelling of demographic information, mortality rates, and available interventions estimates that 14.2 million newborns with SCD will be born between 2010-2050, with 85 percent of them in sub-Saharan Africa. It also shows that large-scale, universal screening could save the lives of up to 9 million of these newborns globally.
Ensuring quality care for SCD patients
The frequent pain episodes characterizing SCD are often so excruciating that patients rely on pain medication and sometimes even blood transfusions. In high-income countries, other treatments such as bone marrow transplants are an option, although the procedure can potentially be life-threatening and requires finding a matching stem cell donor.
According to a 2016 study, SCD patients in large parts of Africa lack access to basic diagnostics and clinical care. It also outlines that more attention needs to be given to providing multidisciplinary care, including adequate care at the primary level.
According to Ohene-Frempong, comprehensive management of SCD following newborn screening includes three key components:
1. Screening and confirmation of diagnosis.
2. Penicillin treatment.
3. Family education.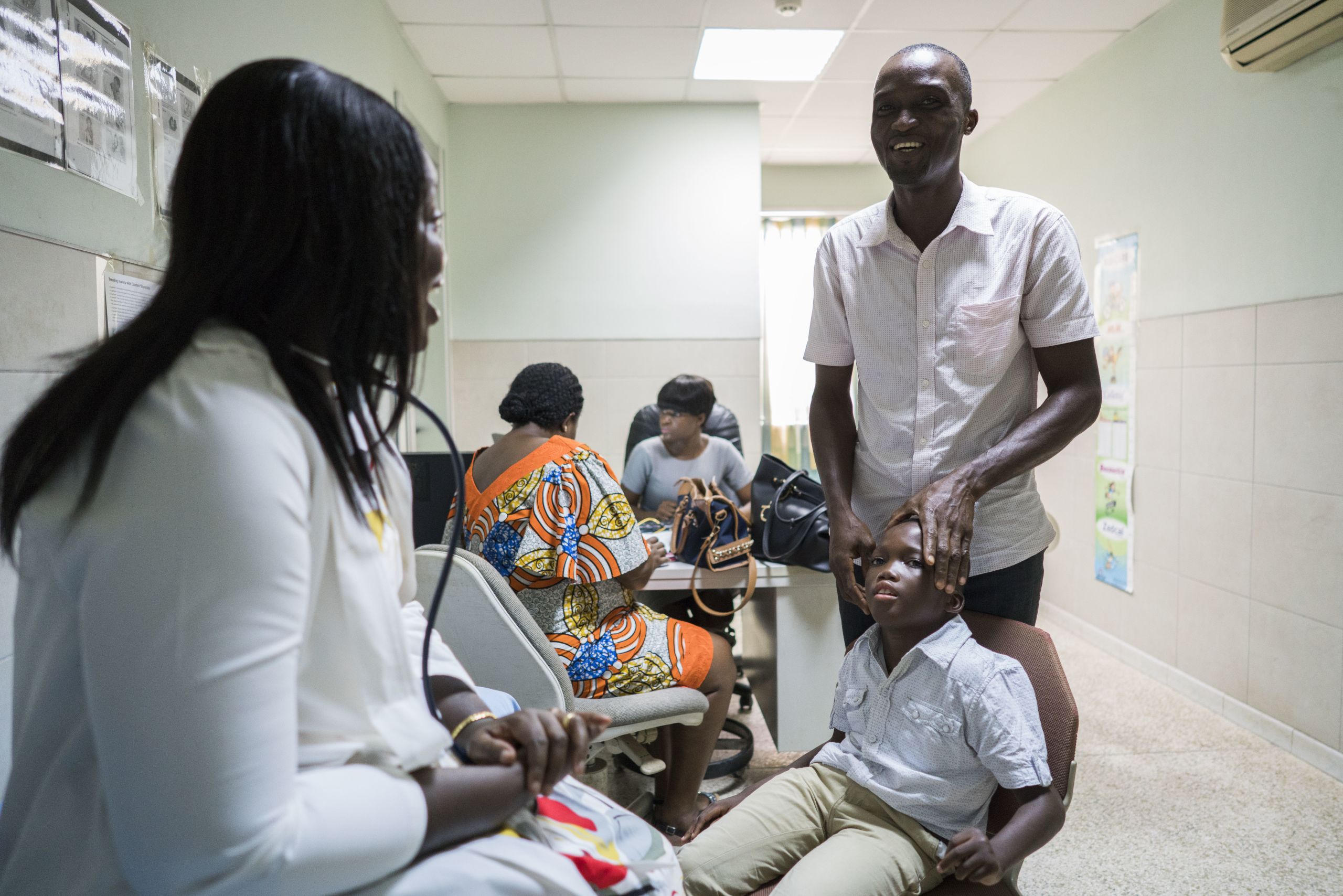 After a child has been diagnosed with SCD, Ohene-Frempong explained that there is a simple antibiotic, penicillin, that can save the lives of most children with SCD in the first few years of life.
"Children with SCD take penicillin twice daily starting from 2 months of age, for at least five years," he said. "That, plus educating the families about the disease and then having a place for them to get comprehensive care, saves the lives of 80-90 percent of these children."
Another drug commonly used to treat both children and adults with SCD in high-income countries is hydroxyurea. However, fears that it would make patients in African countries more susceptible to malaria has limited its use in the very region most affected by the disease. In 2018, a multicountry trial showed that the drug can be safely used for treating children in sub-Saharan Africa and that it "reduced the incidence of vaso-occlusive events, infections, malaria, transfusions, and death, which supports the need for wider access to treatment."
The study also states that "as countries in sub-Saharan Africa begin newborn screening programs to identify children with sickle cell anemia, wider access to hydroxyurea may provide a simple and inexpensive oral medication that can alter the disease course and prolong survival."
Self-management of the disease and parents' education is another crucial component to managing SCD. It's imperative that both caregivers and SCD patients learn how to recognize the signs of infection, acute anemia, stroke, or other complications. Ensuring a quick and appropriate response to symptoms is essential — and potentially life-saving. Parents of children born with SCD should receive training around pain management, as well as educational and psychosocial support for their children.
The ripple effects of SCD
SCD has a multidimensional impact both on the individuals living with the disease and their families. From causing high mortality and reducing quality of life, to an often high economic burden on individuals and families, the disease has many consequences reaching beyond the SCD patient. For families with no access to health insurance, taking care of a child with SCD can prove difficult and a source of emotional strain.
"Individuals with SCD can do well in school and become professionals, but the truth is that the support is low in many African countries, meaning we lose too many children with SCD, and, unfortunately, many of them are not able to succeed in school," Ohene-Frempong explained.
Living with SCD as an adult
For Gifty Duodu, a 27-year-old woman from Kumasi, in southern Ghana, the disease has had effects beyond the pain, including facing stigma in her everyday life. "The disease has affected my relationships and it is still affecting my relationship, I'm scared to open up to a guy and tell him I am SS [sickle cell]."

When an ex-boyfriend found out she had SCD, he didn't want to see her anymore. "He confessed to me that he doesn't want [to] be suffering like how my dad has been suffering," she explained.
Duodu holds a degree in English education and is currently teaching at a senior high school. She explains that frequently falling sick from her SCD can lead to her being withdrawn from work. "And I can't depend on my dad alone, he has suffered too much because of this condition."
For Duodu's father, his daughter's SCD means there are a lot of medical bills to pay. Parents of children with SCD often experience both financial and emotional hardship, constantly worrying about their children's well-being and acute symptoms such as infections.

"If she goes out as a teacher, because she's now a teacher ... I'll be thinking about her because if anything happens, she's alone," he said. "I'm trying to get her closer to me so that I can take care of her."
Partnering to prevent child deaths and improve care
At the 2019 World Economic Forum Annual Meeting in Davos, Switzerland, Novartis, the Ghana Health Service, and the Sickle Cell Foundation of Ghana announced a recently signed memorandum of understanding for a new partnership aimed at tackling preventable child deaths from SCD through both newborn screening and treatment.
The partnership will be implemented by the Ghana Health Service, under the Ministry of Health, and the SCD Foundation, overseen by Ohene-Frempong.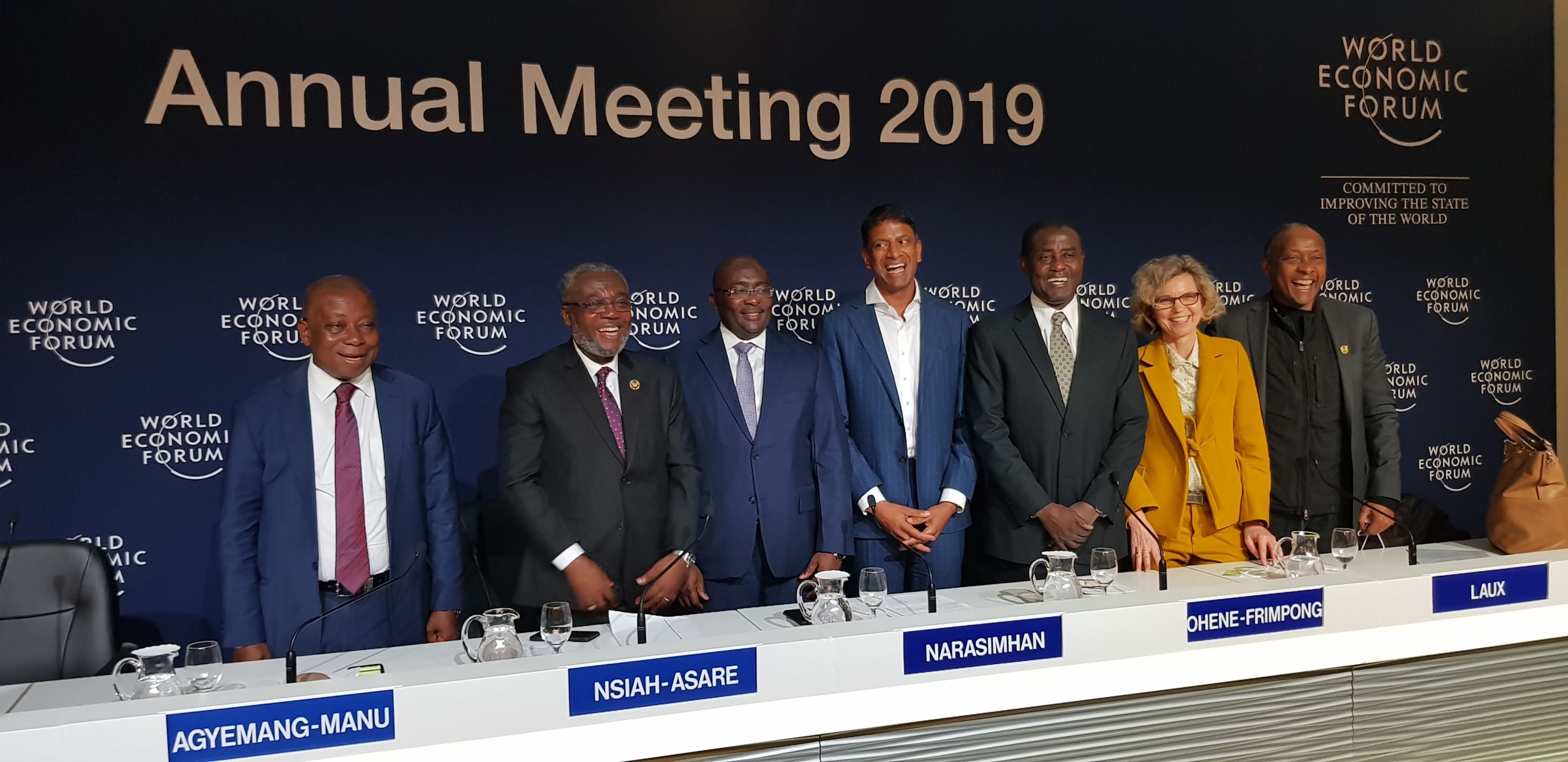 On the sidelines of the forum, Group Head of Global Health and Corporate Responsibility at Novartis Dr. Patrice Matchaba spoke to Devex about the newly signed memorandum.
"Our part as Novartis is to help the partnership scale, ensure universal screening of newborns, and … help them implement current treatment guidelines that include penicillin," Matchaba said.
He also explained that Novartis — with the help of the Ghana Food and Drugs Authority — has registered hydroxyurea for use in SCD treatment in the country. Discussions are also under way to include the drug in Ghana's national health insurance scheme.
"We want Ghana to be a champion for the rest of the African countries and show that this can be done. Having SCD is not a death sentence to children and families in Africa or elsewhere," Matchaba added.
Ghana to support expanded newborn screening
Following the press conference that announced the signing of the memorandum in Davos, Ghana's Minister of Health Kwaku Agyeman-Manu told Devex that "there's the need for us to begin to do early detection and look at screening these newborns."
With the new partnership, the ministry wants to put systems in place to expand newborn screening across the country. "That's the only way we'll be able to build data on how many [SCD patients] we have," Agyeman-Manu said.
The Director General of the Ghana Health Service Dr. Anthony Nsiah-Asare explained that, in addition to setting up centers of excellence in all regional capitals, the partnership will establish treatment centers in all regional hospitals, aiming to reach 16 regions over the course of the year.
"We'll also try to capture the treatment and diagnosis ... in our national health insurance program," Nsiah-Asare said, adding that by doing so, GHS aims to make treatments reimbursable to lessen the economic burden on families affected by SCD.
In order to boost research around SDC, the initiative will also focus on data collection. According to Nsiah-Asare, data should be collected, analyzed, and used in order to encourage research around SCD and as a resource for the whole sub-Saharan Africa region.
Moving forward and scaling results
Leading the implementation of the partnership in Ghana is Head of Access for the Africa Sickle Cell Program at Novartis Roland Hammond-Addo.
"We are getting a lot of things right in the country, the democracy is stable, we have some structures in place with the national health insurance authorities, and we have [the] government ready to invest in health care. Although it's not at the level that we would desire, the priority is there," he said.
Recently, Ghana's President Nana Akufo-Addo officially launched the world's largest medical drone delivery service in partnership with Zipline — an automated logistics company based in California. The new service will use drones to make on-demand, emergency deliveries of life-saving medications, blood products, and vaccines, which will deliver to 2,000 health facilities serving 12 million people across the country.

Health workers will be able to place orders by text message and receive their deliveries in 30 minutes on average. Zipline is partnering with Novartis to support its collaboration with the government of Ghana to improve screening, diagnosis, and treatment of SCD by helping ensure the availability of screening tests and treatments in even the most rural parts of the country.
Hammond-Addo's call to action is to prioritize SCD: "I think once Africa, once ministries, once governments prioritize the disease, then it will set the ball rolling for newborn screening, drug availability, research, treatment, and advocacy. That's actually opening the door for all of these elements to come together," he said.
He also explained a plan to collect robust data that will inform guidelines around newborn screening.
"Ghana is the first wave of countries [doing newborn screening] and we want to replicate the success story of Ghana across the continent and change the landscape of patients with SCD. Data will be one of the critical stages in this success story."
Sickle Cell Foundation's Ohene-Frempong is also hopeful that the partnership will provide lessons for other countries in the region.
"We really hope that Ghana, being a relatively small country, will be able to show results quickly enough to encourage others — manufacturers of medical equipment and drugs and health NGOs around the world helping in other diseases — and that all of them will see that SCD is a manageable disease, and that with a small investment, we can go a long way."
Update, May 20, 2019: This piece has been updated to reflect Novartis' recent partnership with Zipline and the government of Ghana.
Videography: Alexander Kumar / Global Health Creative