Key actors: Who is leading the COVID-19 aid response?
Some organizations have set up COVID-19 task forces, others have named several officials to head up the response to the pandemic.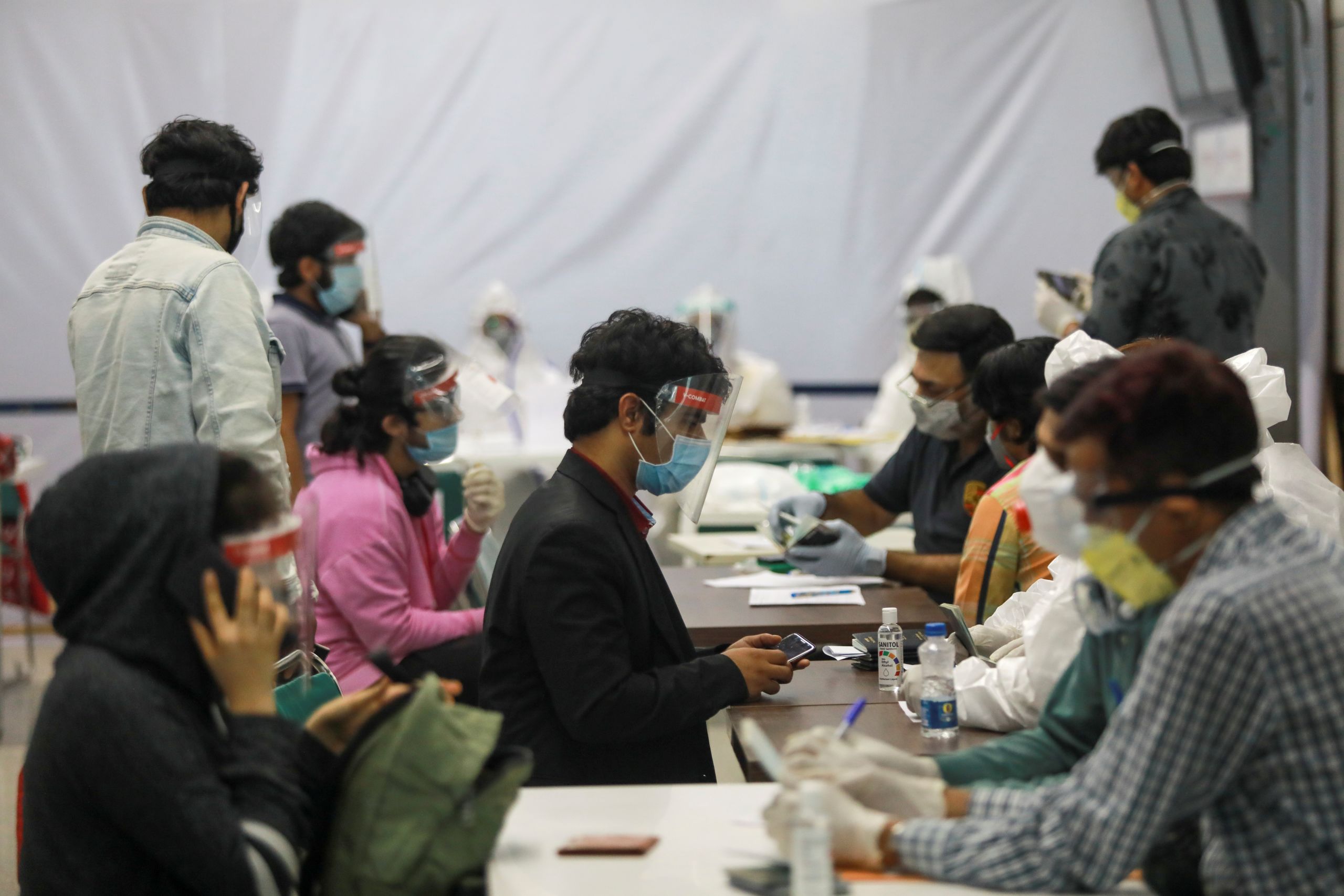 The coronavirus has disrupted the aid industry. Donors and aid organizations are finding ways to effectively respond to the crisis, which has now affected over 200 countries and territories, with over 4.5 million confirmed cases and over 300,000 deaths globally.

Aid organizations have adopted different structures and set-ups in response to the pandemic. In some organizations, a task force has been set up to focus on the pandemic, often including leaders already involved in organizations' strategy, coordination, and response. In others, one senior official has been given the task.

Here's who's leading the COVID-19 response in some of the biggest organizations.
The African Development Bank
---
AfDB has launched a number of initiatives to help member countries and businesses in the continent affected by the pandemic. This included the launch in April of the $10 billion COVID-19 rapid response facility, which Khaled Sherif described as a "stimulus" meant to ensure governments have access to the resources they need to pay debt, pensions, and government salaries, and for the private sector to remain afloat in the midst of the global crisis. The bank also launched a $3 billion Fight COVID-19 Social Bond, and approved a $2 million emergency assistance for the World Health Organization's work in the continent.
---
Vice President for Finance
Bajabulile Tshabalala
is the AfDB's resource mobilization lead.
Khaled Sherif
, vice president on regional development, integration, and business delivery, is in charge of coronavirus-related operations.
The Asian Infrastructure Investment Bank
---
AIIB, headquartered in Beijing, announced a scale-up of public health infrastructure financing in the wake of the pandemic in March. In April, it launched a Crisis Recovery Facility to respond to the urgent economic, financial, and public health pressures. The facility initially offered $5 billion in financing, but the bank has since raised this to $10 billion due to high demand.
---
Joachim von Amsberg
leads the bank's investment strategy and programming as vice president for policy and strategy. In the midst of the pandemic, he chairs the AIIB steering committee overseeing the bank's coronavirus response, and joins AIIB President Jin Liqun to work with the heads of other multilateral development banks.
Australia's Department of Foreign Affairs and Trade
---
It's unclear how much DFAT has provided to the response. What is known, is that Australia has responded to requests for support in the areas of laboratory diagnosis, provision of personal protective equipment, and support for surveillance and risk communication in the Pacific region. DFAT is using a combination of its emergency fund and existing ODA allocations. The Indo-Pacific Centre for Health Security, headed by Robin Davies, has also deployed specialists to work with WHO in the Pacific, and several Pacific island governments' health ministries, including through its partnerships with Australian medical research institutions.
DFAT has incorporated temporary COVID-19 task forces in its organizational structure, but has the following people leading on COVID-19-related foreign assistance: Elizabeth Peak and Jamie Isbister are in charge of DFAT's coronavirus development policy.
---
Elizabeth Peak
is DFAT's first assistant secretary of the human development and governance division.
James Isbister
is DFAT's first assistant secretary of the economic growth and sustainability division.
James Gilling
leads the department's humanitarian, NGOs, and partnerships division.
Robin Davies
remains in charge of the department's health response for the Indo-Pacific.
Swedish International Development Cooperation Agency
---
In April, Åsa Andersson, Sida's current lead policy specialist on health and sexual and reproductive health and rights, highlighted the organization's long-term support for health systems and current efforts to curb the spread of COVID-19, including ensuring at-risk groups are not being left behind. Its funding has gone to hand-washing campaigns and health funds aimed at ensuring access to health care, including for vulnerable groups such as pregnant women, people living with HIV, and LGBTQ people.

Many of the health funds are being repurposed to meet immediate needs related to COVID-19. In Myanmar, for example, funds are being used for COVID-19 testing and purchases of personal protective equipment.

A spokesperson said: "[Sida's] work is highly affected by the virus, and many of the contributions are being reprogrammed and adapted to meet the needs in the current situation."
---
Pia Engstrand
heads the task force coordinating the aid agency's contributions to the COVID-19 response. The task force gathers analysis on the effects of COVID-19 and how multilateral organizations and bilateral donors are responding to the crisis to understand how best to use Sida's resources.
---
UN-Habitat launched its COVID-19 response plan in April as the coronavirus affected more cities and posed threats to the health and well-being of people living in densely populated urban settings. The plan focuses UN-Habitat's response in three areas: supporting local government and community-led solutions, providing urban data evidence-based mapping and knowledge, and helping cities mitigate the economic impact of COVID-19. The program provides online virtual learning platforms to help cities share and exchange innovative solutions in dealing with the crisis.
---
Christine Knudsen
, who joined UN-Habitat in January as director of the external relations, strategy, knowledge and innovation division, was appointed emergencies director in March to coordinate the U.N. program's overall humanitarian and crisis response amid the COVID-19 pandemic. As lead, Knudsen holds weekly meetings with senior technical staff from across UN-Habitat's divisions to develop the program's framework, challenges, and response in the field. Weekly meetings are also held with regional offices and senior leadership to ensure policy alignment and priorities in support of the COVID-19 response.
United Nations Foundation
---
The United Nations Foundation and the Swiss Philanthropy Foundation set up the COVID-19 Solidarity Response Fund in March to help support WHO's COVID-19 response — including some of its partners. The fund accepts donations even from individual donors and businesses worldwide.
---
Kate Dodson
, vice president for global health at the United Nations Foundation, is the UNF COVID-19 lead. She is responsible for driving the organization's strategic response, partnerships, and stewardship of the COVID-19 Solidarity Response Fund.
United Nations High Commissioner for Refugees
---
UNHCR has raised concerns over the plight of refugees and people displaced within their own countries amid the pandemic, highlighting issues such as evictions, the loss of livelihoods, and an increase in displacement. In response, it has provided cash assistance and isolation units. In some cases, UNHCR has boosted the capacity of health care facilities, from covering refugees' COVID-19 tests to the provision of medical supplies and equipment.
---
U.N. High Commissioner for Refugees
Filippo Grandi
chairs a crisis management team established in response to the COVID-19 pandemic.
Deputy High Commissioner
Kelly Clements
heads the UNHCR's support function.
Assistant High Commissioner for Operations
Raouf Mazou
heads the operations subgroup.
United Nations Children's Fund
---
Globally, UNICEF is engaged in different aspects of the response, such as providing personal protective equipment, medical supplies, and WASH kits; issuing guidance on school meals and other topics; working with governments on social protection policies; and disseminating vital information on COVID-19.

UNICEF leads the nutrition, WASH, and education clusters and child protection area of responsibility under the Inter-Agency Standing Committee's Emergency Directors Group and co-leads the risk communication and community engagement pillar under the WHO Incident Management Support Team.

UNICEF has a COVID-19 secretariat, with three senior officials leading on coordination, operations, and technical response.
---
Carlos Navarro
, principal advisor for public health for UNICEF's Office of Emergency Programmes, is the technical lead for the response.
Manuel Fontaine
, UNICEF director of emergency programmes, is the emergency coordinator for the organization's response to the pandemic.
Grant Leaity
, deputy director of UNICEF's Office of Emergency Programmes, is operational lead. The role includes coordinating with UNICEF's regional and country offices.
The U.S. Agency for International Development
---
The U.S. government has committed close to $800 million in emergency health, and humanitarian, economic, and development assistance for the coronavirus globally, according to its latest update. That includes about $200 million in emergency health assistance from USAID's Global Health Emergency Reserve Fund for Contagious Infectious-Disease Outbreaks and global health programs account, and about $300 million in humanitarian assistance from its international disaster assistance account.

However, USAID has been caught up in controversy following reports of U.S. government restrictions on agency grant funding and shipments of medical supplies overseas.
---
In March, USAID created a
COVID-19 Task Force
led by Dr.
Kenneth Staley
, the U.S. global malaria coordinator, to coordinate the agency's response. The task force has three key objectives: ensure the safety and security of USAID's workforce, continue USAID's life-saving work globally, and support partner countries in their response.
---
Wellcome has been supporting research and development of COVID-19 diagnostics, treatments, and vaccines. It also advocates for equitable access to these. In April, it announced COVID-Zero, aimed at raising $8 billion in funding for COVID-19 research and development efforts and WHO's COVID-19 response. The charity is also part of the trio of institutions that launched the COVID-19 Therapeutics Accelerator.
---
Charlie Weller
leads Wellcome's vaccines program.
Alex Harris
is the head of global policy and advocacy.
Jeremy Farrar
, the charity's director, is providing scientific and public health advice to WHO, and the U.K. and German governments.
Nick Cammack
leads the COVID-19 Therapeutics Accelerator — an initiative aimed at accelerating the identification of therapeutics for COVID-19 — at Wellcome.
Other people involved in the COVID-19 response at Wellcome are
Josie Golding
, lead of epidemics research, and
Lara Clements
, COVID-19 communications and campaigns lead.
---
In remarks at a virtual event on May 13, Axel van Trotsenburg said the bank will provide up to $160 billion in financing toward health, economic and other social shocks countries are facing worldwide for a period of over 15 months. This includes $50 billion of the bank's International Development Association resources, its financing window for the world's poorest countries.

The World Bank first announced a financing package of $12 billion on March 3 to support countries responding to the COVID-19 pandemic, followed by an additional $2 billion two weeks later. Then in April, the Pandemic Emergency Financing Facility, launched by the bank in 2016, announced an allocation of $195.8 million to 64 low-income countries that have reported cases of COVID-19. The PEF funding was in addition to the $160 billion the bank has committed to for COVID-19. Some aid experts and officials however think the bank should scale up its financing.
---
Axel van Trotsenburg
, World Bank managing director of operations, is leading the bank's COVID-19 response.
---
WFP is providing key logistical support in the COVID-19 response amid a significant decrease in commercial flights worldwide. In April, the U.N. program flew critical personal protective equipment and medical devices to countries in Africa as part of the first U.N. Solidarity Flight. On May 1, it also flew the first set of humanitarian workers responding to the COVID-19 pandemic.

The program has set up regional transport hubs or air bridges in several locations in Africa, Asia, Latin America, the Middle East, and Europe to help transport coronavirus-related cargo and personnel responding to the pandemic. The transport can also be used for medical evacuations. WFP and WHO co-chair the U.N. COVID-19 Supply Chain Task Force.

WFP does this while working to assess the impact of the pandemic on hunger and food security and adapting its strategy to continue food distributions in countries of operation.
---
The World Food Programme's logistics and procurement director is also leading the program's response to the COVID-19 pandemic. As COVID-19 corporate response director,
Amer Daoudi
oversees WFP's logistics and supply chain services, leads resource-mobilization efforts, and works with external partners such as governments, U.N. agencies, and the private sector on the COVID-19 response. He is responsible for WFP's operational management and ensuring support for the program's regional directors.