Disability inclusive health care has mountains to climb
In Nepal, physiotherapy services in remote regions provide a glimpse at a more inclusive future for the post-quake country.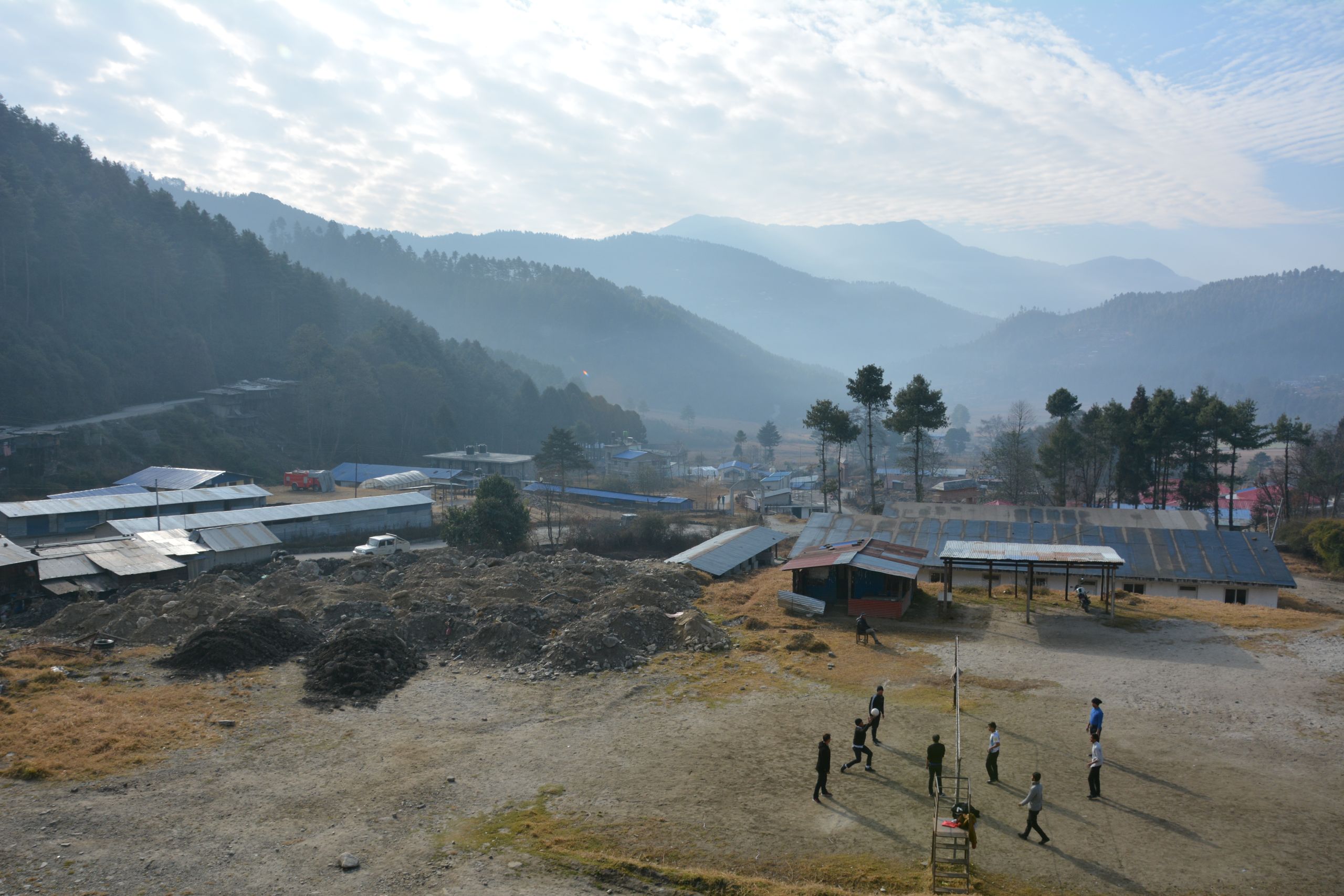 KATHMANDU, Nepal — It's early, but the craftsman is already methodically running a grating tool over the model lower limb at his workstation. First with wood and now plaster, Sahila Kaiti has been carving limb prototypes to fit people with prosthetics in Kathmandu for 31 years. His job has changed dramatically in the last three decades — and not just due to the materials in his repertoire, he tells Devex. The work also garners him more respect in the community than it ever has before.
Some of this shift likely resulted from Nepal's 2015 earthquake, which injured 22,000 people and brought media attention to those who lost arms and legs when infrastructure collapsed. But it can also be traced to the fact that the country is working toward more inclusive health care — where disabled persons groups are increasingly organized and policy adopted in 2017 encourages a rights-based approach to disability.
The workshop that Kaiti has spent his career in is attached to a physiotherapy unit, where patients such as 49-year-old Sarad Paudel are fitted for prosthetic limbs and taught how to use them. Paudel, whose left leg was crushed under the rubble of an office building during the earthquake, said his prosthetic now feels natural: "I don't realize I don't have my leg," he tells Devex.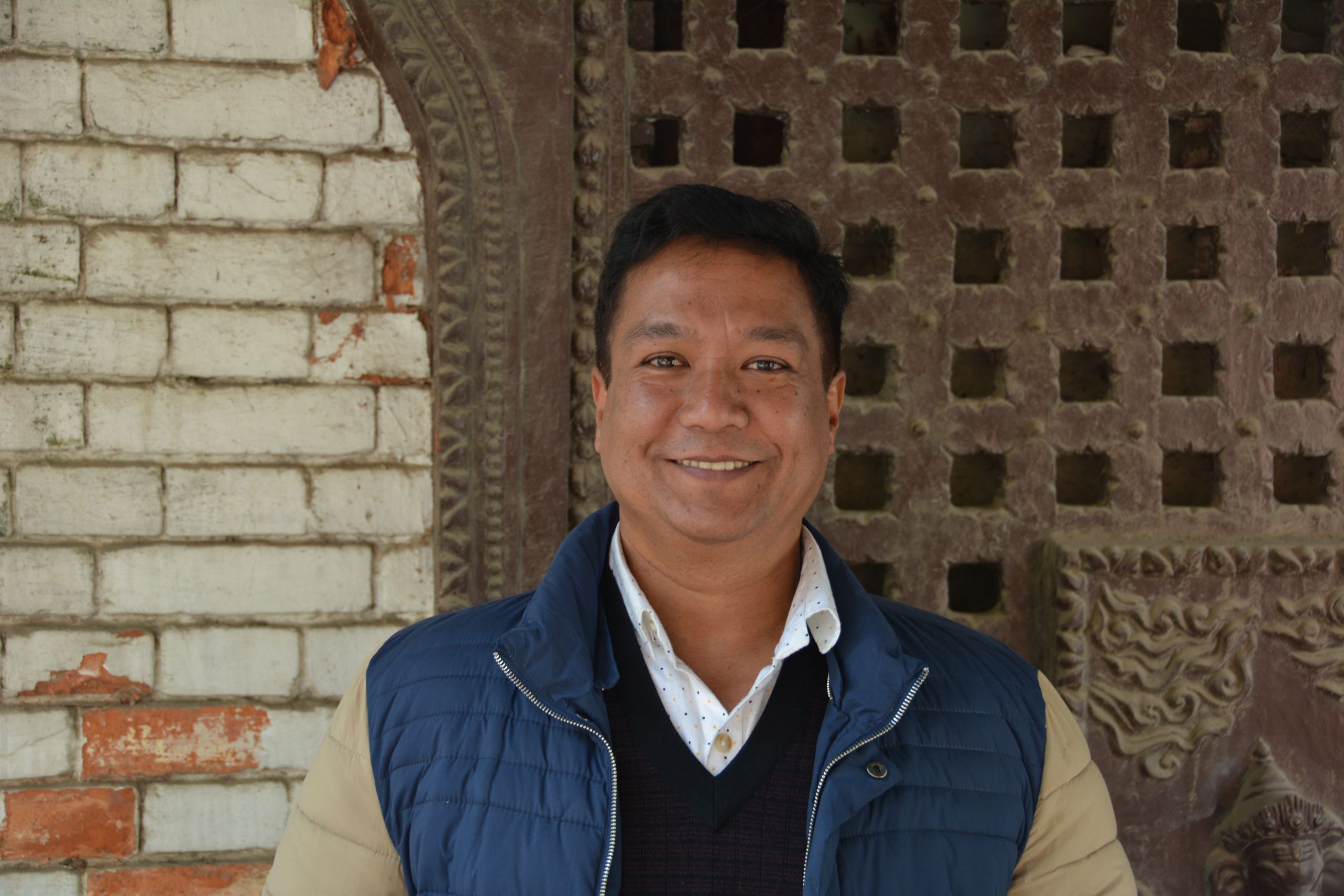 Other patients are referred to the unit — set up by international nonprofit Humanity & Inclusion with support from the U.S. Agency for International Development — to recover from accidents or receive regular care for conditions like cerebral palsy or muscular dystrophy. In Kathmandu, people with disabilities have access to a growing number of rehab centers that can provide assistive devices or physiotherapy, which Nepal's Ministry of Health and Population identified as a basic health service in 2017.
But throughout the mountainous country, where 81 percent of the population is rural, a lack of rehabilitation centers combined with difficult geographical, financial, and personal barriers still regularly prohibit people with disabilities from getting the care they need.
Access to physiotherapy 'virtually nonexistent in rural areas'
Nepal's current national health sector strategy stresses that people with disabilities and other vulnerable people living in remote areas have access to health prevention, detection, care, and rehabilitation services. Still, with around 2,000 physiotherapists in the country, only 25 are deployed by the government to rural areas, according to Mahendra Bikram Shah, project coordinator for Humanity & Inclusion's health systems strengthening programs.
"There are so many hospitals, so many institutions, and there is now some sort of realization that this is a good service," Shah tells Devex. "But still there are low number of physical therapists in our market. Although people from rural areas were affected by the earthquake, access to physical therapy services is virtually nonexistent in rural areas."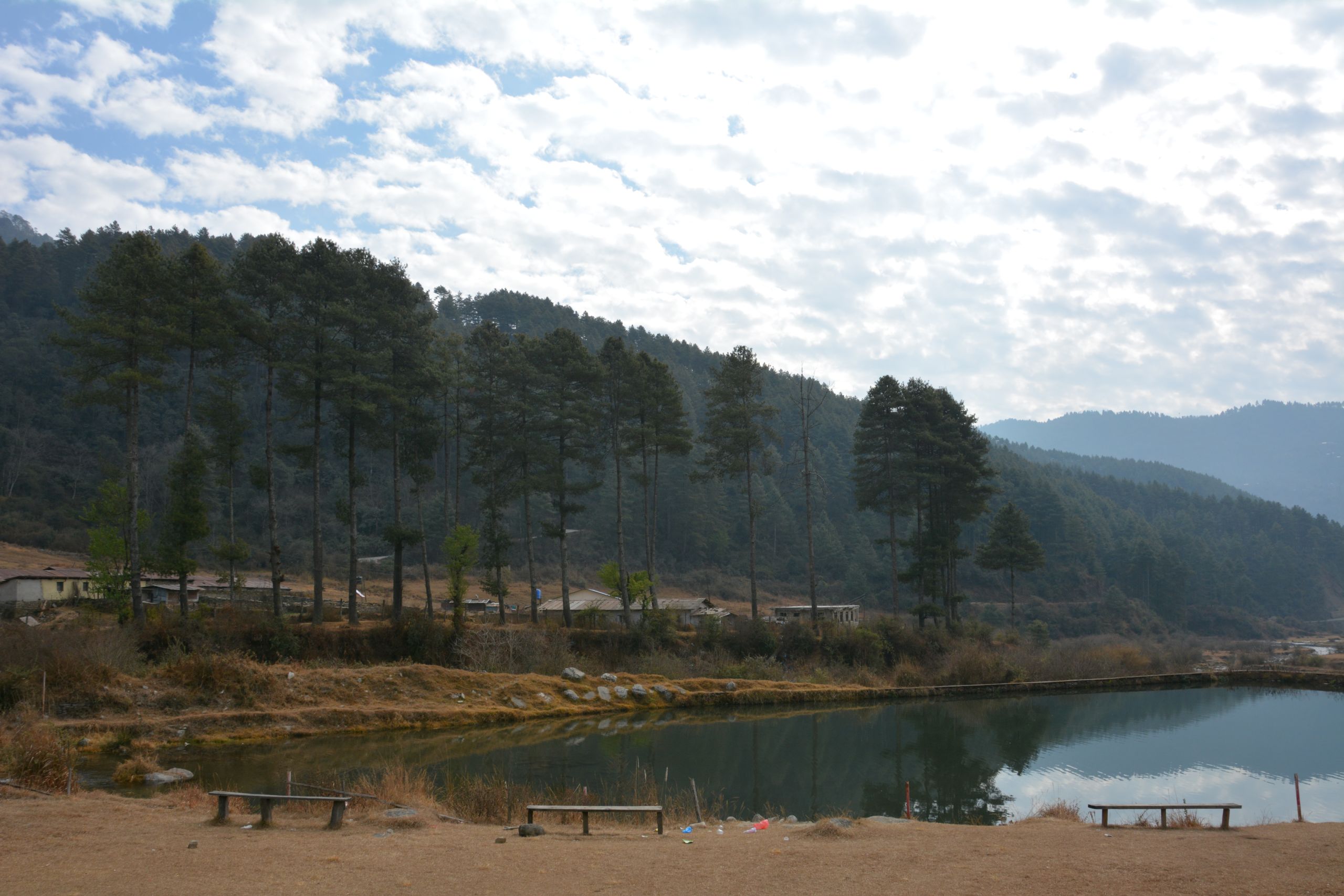 Humanity & Inclusion, which supports people with disabilities and vulnerable populations in situations of poverty and exclusion, seeks to fill the gap by supporting seven physiotherapy and rehab units established in six of the most earthquake-affected districts of the country. In coordination with the government and funded by the Ministry of Foreign Affairs of Luxembourg, the project aims to strengthen district health system capacities and provide a place for people with disabilities to restore their maximum functional capacity in areas of the country they normally wouldn't find care — like Jiri.
A seven-hour drive northeast on dusty, rutted roads from Kathmandu sits Jiri, a mountain town of 8,000 inhabitants and the nearest road head for trekkers tackling Everest Base Camp. In a small tin-roofed room with a view of the mountains, Radhika Koju encourages a woman recovering from a fracture to stretch her arm back and forth, then squeeze a small red ball in her fist. The physiotherapy unit often receives referrals like this from Jiri Hospital, a dilapidated building next door that will soon be rebuilt.
Koju, who has worked as a physiotherapist in Jiri for two years, currently sees about four patients a day, though she has the capacity to see more, she tells Devex. But people travel on foot sometimes for hours from nearby villages, and weather can deter them from making their appointments. During monsoon season in particular, Koju might only see one person a day.
"The earthquake gave us the knowledge that physiotherapy is also a very important component inside the hospital. We only learned that after the earthquake."
Tanka Jirel, Mayor of Jiri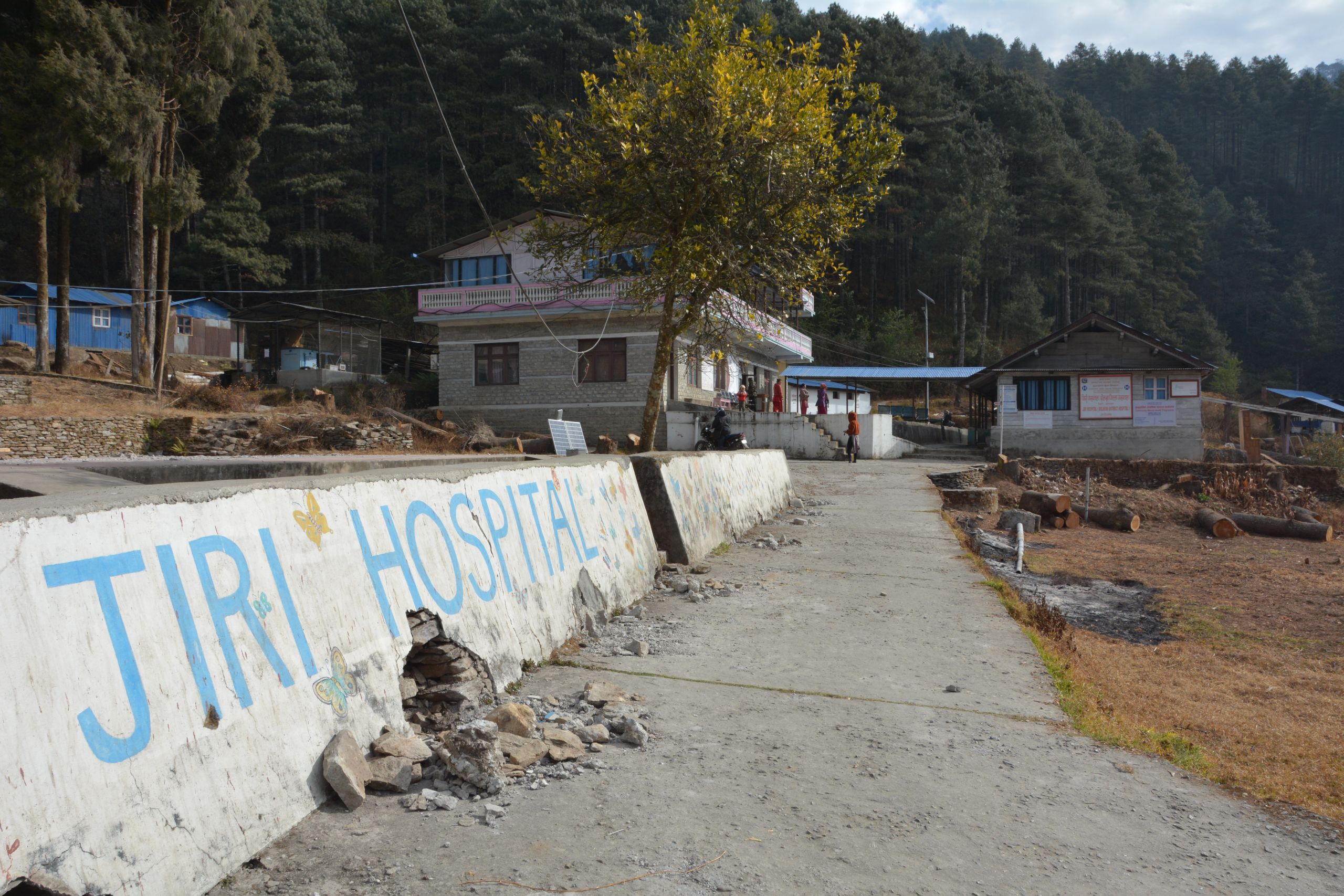 The Jiri Hospital, where Humanity & Inclusion has set up a physiotherapy unit, will soon be rebuilt.
The Jiri Hospital, where Humanity & Inclusion has set up a physiotherapy unit, will soon be rebuilt.
Walking hours for physio treatment
Even when roads aren't flooded, disabled patients battle the physical challenge and stigma associated with seeking and receiving care. Fifty-five-year-old Tej Bahadur Jirel suffered a stroke in early 2017 and requires rehab to learn how to use one side of his body again — but he has missed several appointments recently, Koju says.
Jirel no longer participates in activities with his friends, he tells Devex, and he struggles to find the motivation to make the hour journey on foot to the center. In the future, Koju would like to see more mobile clinics, which Humanity & Inclusion has supported in the past to enable a team of physiotherapists and health care professionals to reach remote areas. For now, she thinks she has successfully convinced Jirel to resume his physiotherapy sessions at the center.
Despite these setbacks, the opportunity to create change in people's lives is what inspires Koju to continue her work in a challenging setting. Kanchimaya Jirel, 21, has cerebral palsy and has been receiving physiotherapy for two years. She walks two hours from her village with the help of her mother to attend the sessions with Koju — the first therapy she has ever received. At first, she couldn't open her hands, her mother explained, demonstrating how her daughter's fingers can now stretch out of fists. Kanchimaya is eager to show off how she has excelled in school through the sixth grade so far: writing with her feet.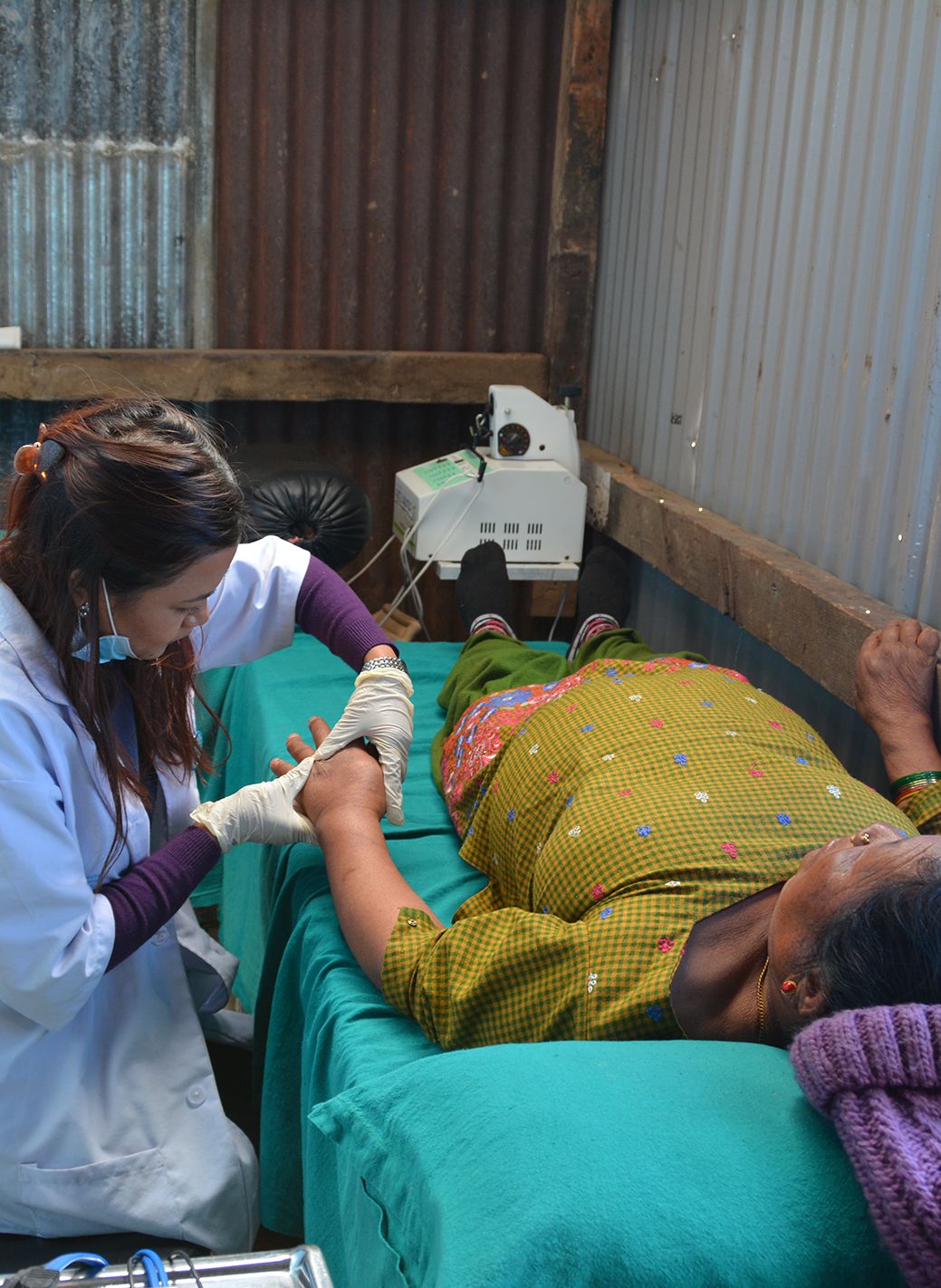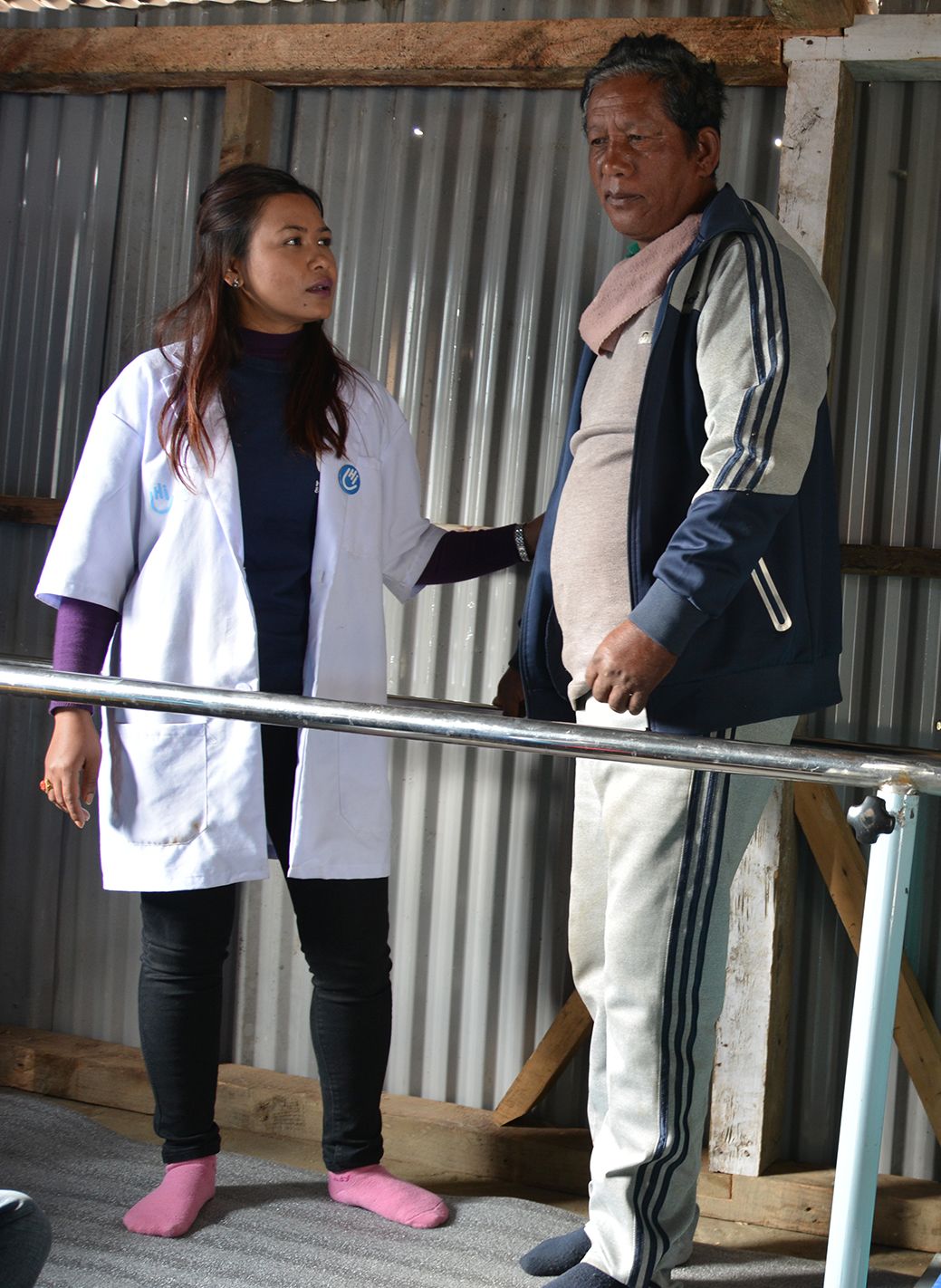 Humanity & Inclusion's Shah is hopeful that similar rehab services will multiply around the county, especially since changes to Nepal's political landscape have assigned more power to municipality level governments. Jiri mayor Tanka Jirel, formerly chairman of the local hospital management committee, is especially optimistic about what he can achieve during the next 3 ½ years of his term.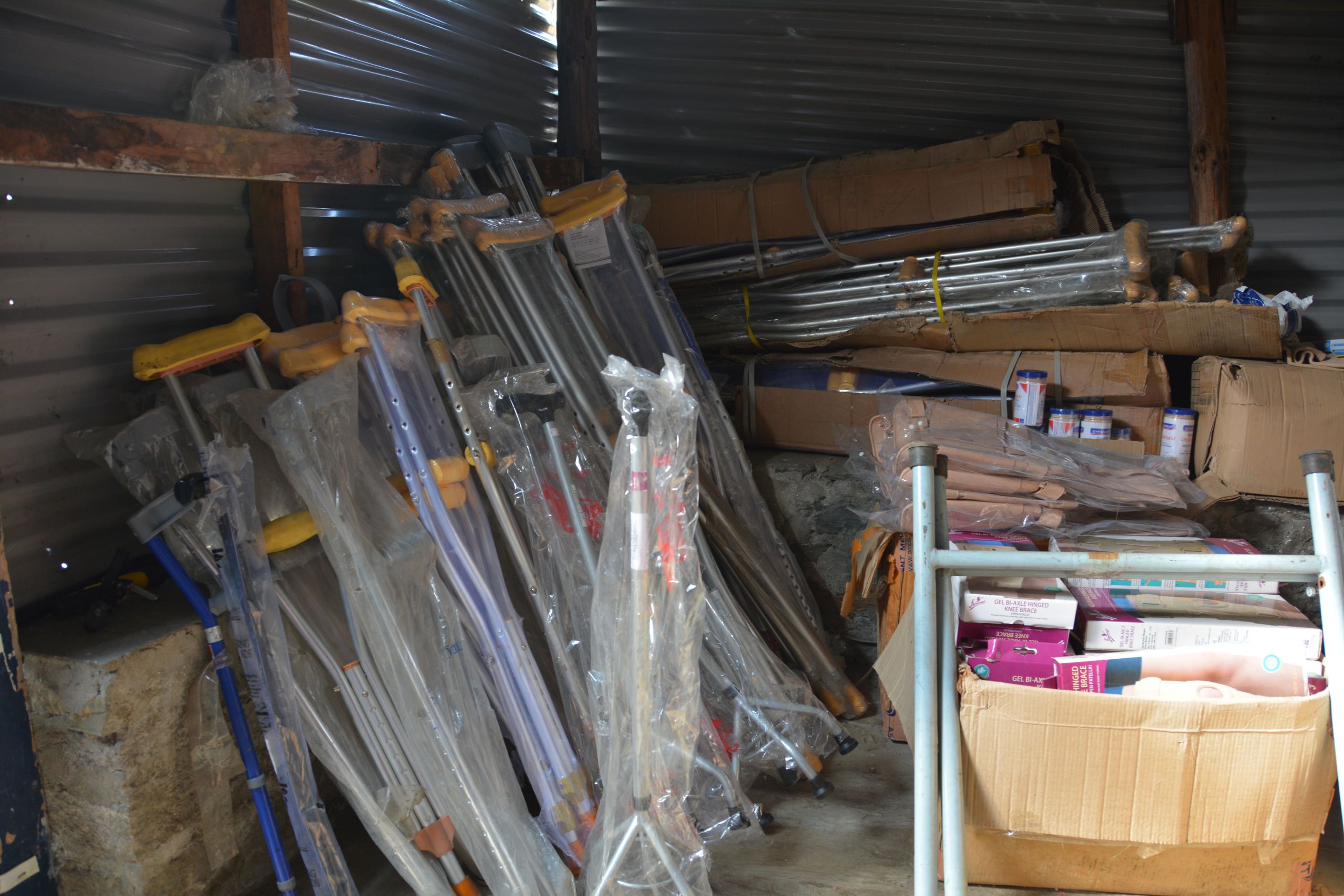 In Jiri, 95 percent of buildings were damaged during the earthquake, explains Jirel, who slept in a tent in the fields near the hospital with the rest of the residents following the disaster. It was a difficult time, but the destructive event also served as a catalyst to make changes to the way the municipality approaches health care, he said.
"The earthquake gave us the knowledge that physiotherapy is also a very important component inside the hospital," Jirel told Devex. "We only learned that after the earthquake."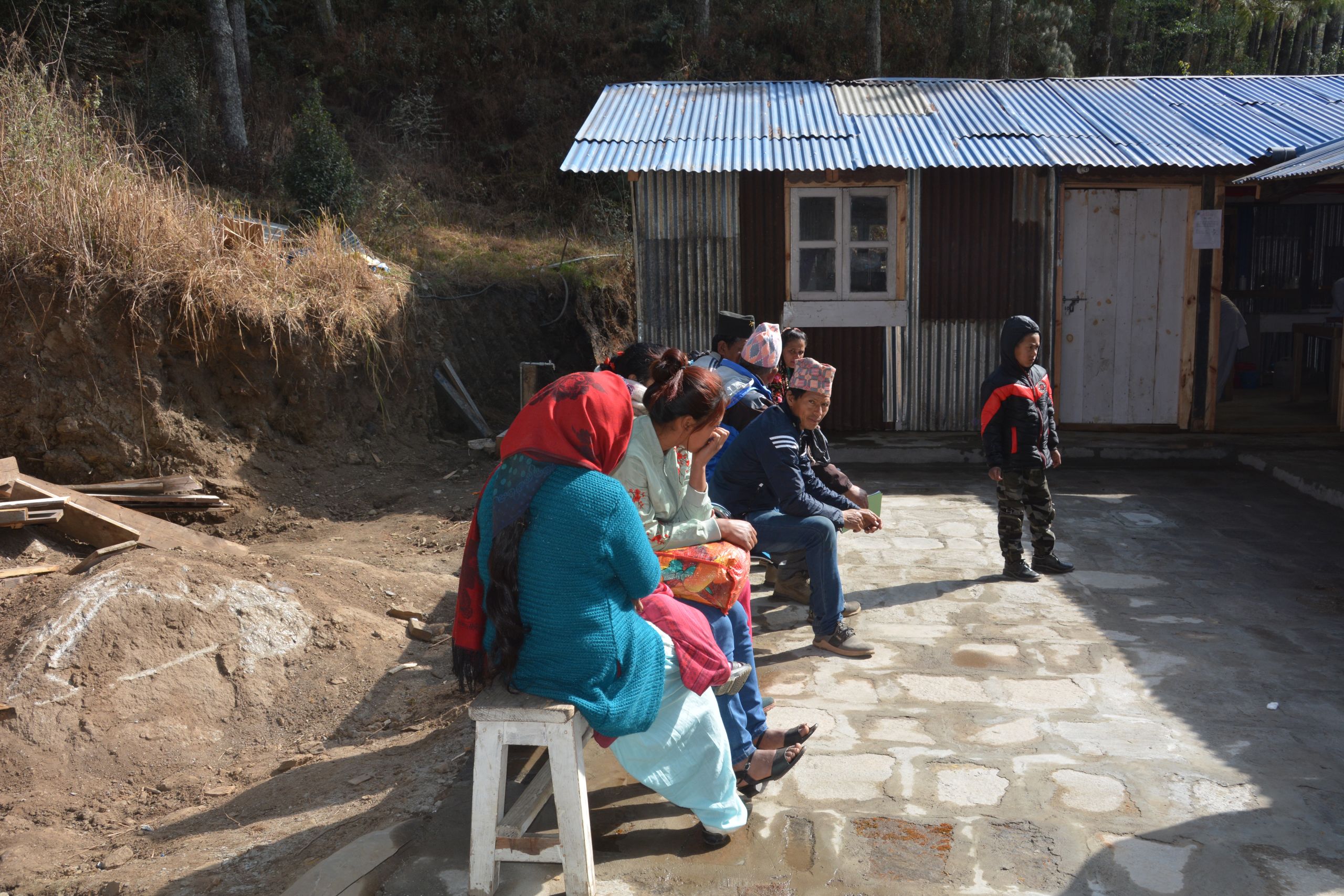 Patients wait outside the Jiri physiotherapy unit.
Patients wait outside the Jiri physiotherapy unit.
Many people with physical disabilities in Jiri treat themselves with natural remedies or other kinds of home care, he says, while those with difficult cases or who need to be fitted with prosthetics, for example, must still make the difficult journey to Kathmandu — if they can afford it.
Jiri's low population density determines the funding it is allocated by the national government, and this money must stretch across the health, education, infrastructure, and agriculture sectors, mayor Jirel explains. Humanity & Inclusion currently supports the rehabilitation center, although the mayor is hopeful that in another two years, the Jiri municipality can assume that role.
"It changes slowly. What is physiotherapy, and what can we do to improve the lives of the handicapped? Slowly people know these things," Jirel said.
Reporting, photography and video: Kelli Rogers
Production: Naomi Mihara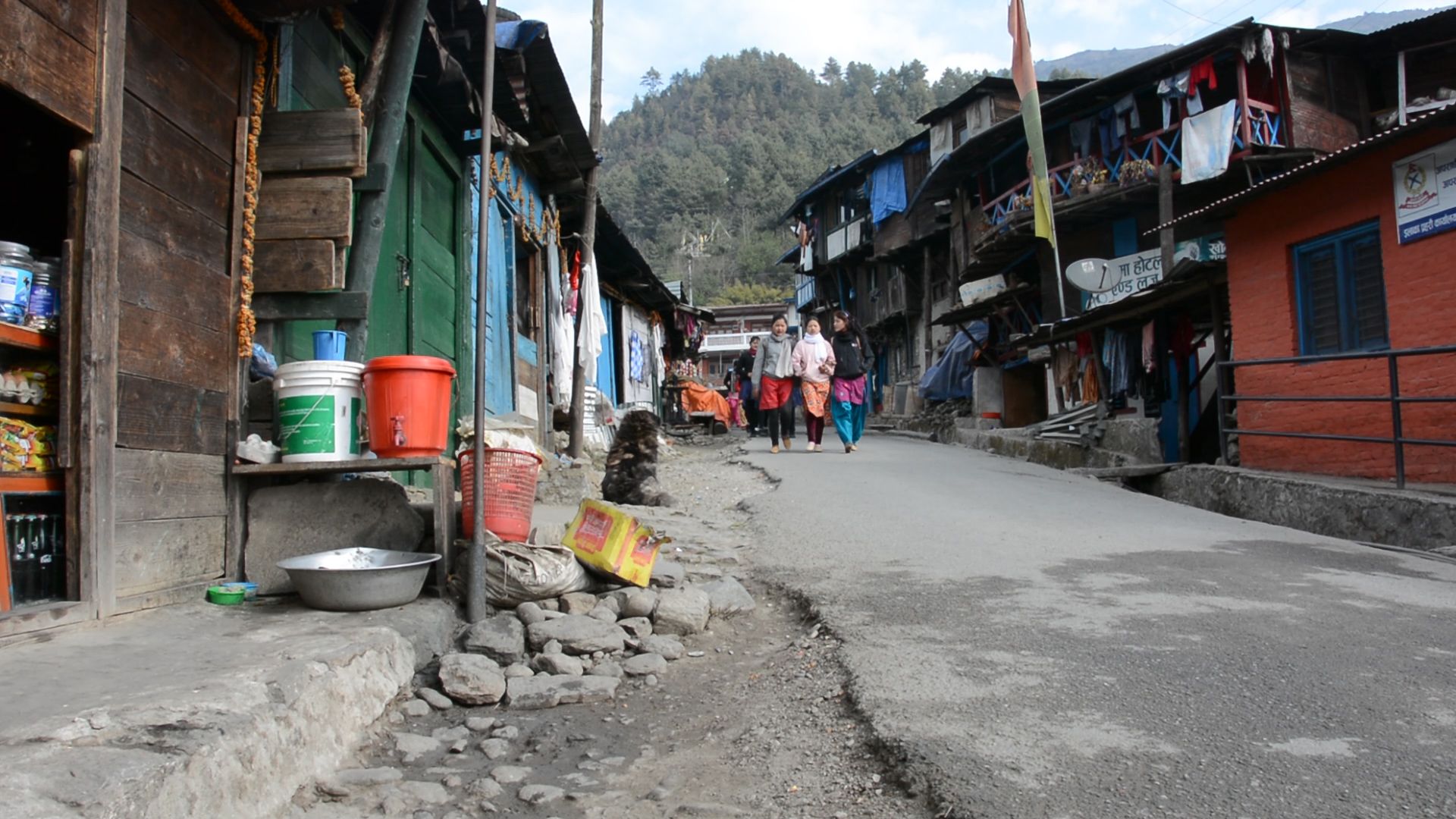 Update, Feb. 15: This story has been updated to clarify that the name of Jiri's mayor is Tanka Jirel.
Editor's note: Humanity & Inclusion facilitated some of Devex's travel for this reporting. However, Devex maintains full editorial control of the content.